---
Anticipated Release – 12/01/2020
GREENEMPLOYEE
Navigation:
Greenemployee.com > Expense Reports

New Feature
Should an employee be in a pay group with travel entries set to be reimbursable, then those employees will see a new screen under their expense reports called "My Travel Entries". On this page, employees are able to view all of the travel entries that have been approved by their administrator.
Entries in this grid will display information from timesheets such as the source of the entry, the mileage information, and the reimbursement status of the entry. The reimbursement status will show whether the entry has been submitted or approved for reimbursement. If it has been submitted/approved, then it will also display which expense report that travel entry was submitted on. If the entry has not yet been submitted for reimbursement, a checkbox will be visible next to the travel entry. The employee can select the checkbox to either 1) add the entry to a new expense report or 2) add the entry to an existing draft report. Note: only templates that contain the expense category associated with the travel entry will display for the travel entries to be added.


Once the employee select to add the travel entry or entries to a report, the expense report template will be prepopulated with those entry information. This includes the odometer start and end, date, and category. Employees can then enter additional expense report entries to complete their monthly report, or simply submit the report for administrator approval.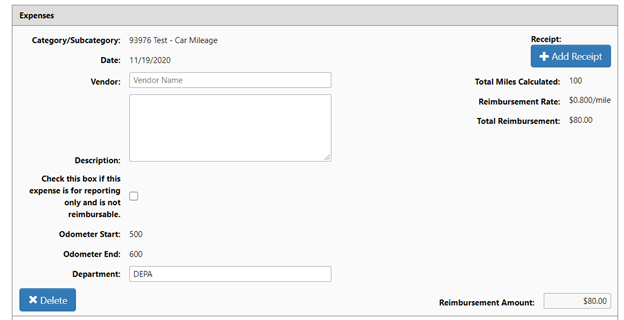 Employees can also add travel entries directly from a started expense report by selecting "Add Mileage from Timesheets". This will open a popup that displays all travel entries that have not yet been submitted for reimbursement.

If an employee is apart of a pay group that does not have travel entries enabled or does not have travel entries reimbursable, then they will not see the "My Travel Entries" page and will not see "Add Mileage" on their expense reports.
Past Updates
---