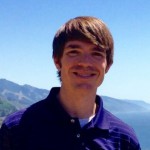 By Chris Hadden, CPP
Technical Sales Manager
What's available to you at the start of 2017, that wasn't available just 12 months ago? Well, 2016 was a busy year for our Benefits team, and I'm sure 2017 will be, too!
Let's take a look back at some of the most popular additions to the Benefits module in 2016. Recognize any of these? You just might, since many of these additions were requested directly by our customers.
Let's start by taking a look at some of the Affordable Care Act upgrades that are available to you.
New ACA Dashboard. The Benefits ACA Dashboard was completely redesigned in 2016.
Report 1: Shows employees that are currently out of compliance, including both the number of employees, as well as the percentage (helping to ensure you meet the 95% requirement).
Report 2: Employees in their Full-time Administrative period whose Full-time Stability period has not begun yet. In other words, these are the employees you need to offer insurance to.
Report 3: Full ACA Detailed report of full-time, non-full-time, and unknown employees. This includes such details as Average Hours and Total Hours.
Report 4: Employees who have had a status change in the past 30 days.
Report 5: Projected status changes – employees in their current measurement period averaging over 30 hours per week. This is a great resource for budgeting additional insurance they may need to be offered in the future.

Employee Coverage 1095-C details. Now, at any time, you can get an estimate on what an employee's projected 1095-C form line 14, line 15 and line 16 details will be. This is an excellent resource for proactively reviewing, or editing information throughout the year.
Covered Individuals details. Employees who were offered, and enrolled in self-insured coverage during the year, will now have a 'Covered Individuals Details' report available, directly under the Monthly Coverage Details. This is another great report to reference throughout the year to proactively stay on top of your ACA details.
1095-C/Year-End Form improvements. Hopefully, the 1095-C process was a breeze for the start of 2017. There were many great improvements added for 2017. Here are just a few:
'Conditional Offer of Spousal Coverage' setting, to support the new 1J and 1K line 14 1095-C codes.
You now have the ability to calculate your Measurement periods based on the adjusted hire date and the first of the month following the adjusted hire date. This will allow employees who were hired as seasonal or part-time employees to then transition to full-time, while still accounting for all dates. Benefits will now store the original hire date and the adjusted hire date, which will cut down on year-end 1095-C needed adjustments.
Access to edit/verify ACA details via Excel, prior to importing. This year, after selecting Create 1095-C, you'll have the ability to preview and edit the ACA details via Excel, prior to importing. This is definitely one of my personal favorites!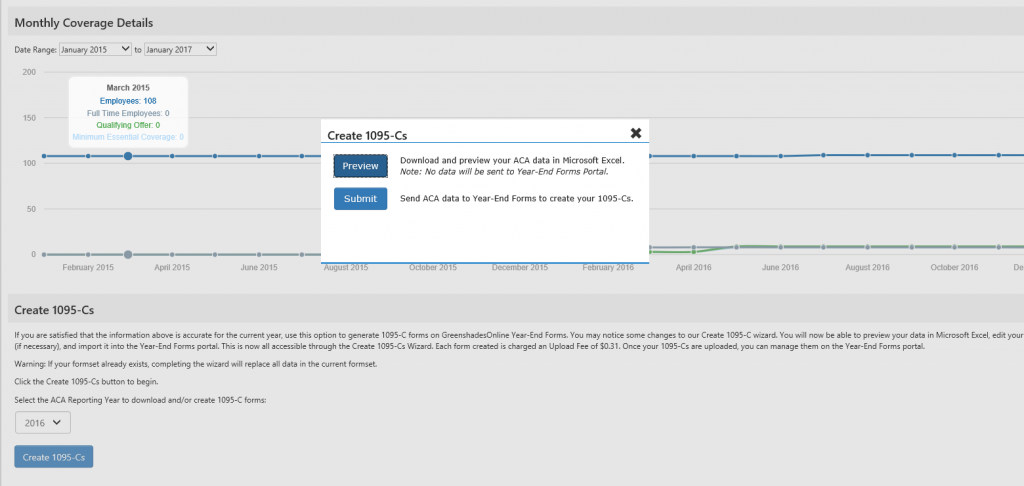 Benefits Management includes much more than just Affordable Care Act compliance.
What are some of other new features available to you in 2017?
Employee verification emails. Employees will now receive email confirmations after completing an Open Enrollment or Qualifying Life Event. Not only is this a convenience for the employee to help reaffirm their benefits submission, but it's also a great way to proactively catch unintentional or fraudulent submissions. Additionally, employees are notified via email and via a homepage notification when security-related changes are made to their account, such as when Profile information is added, changed, or removed.
Cafeteria Plan improvements. Benefits administrators now have new and robust options available to choose from. Here are some of the improvements:
When setting up Cafeteria Plans, you can now add an additional percentage of your employee's salary to the total amount provided by the employer per period.
Once Cafeteria Plans are added, you can now select multiple Cafeteria Plans for employees to choose from within a Benefit Package setup. If more than one Cafeteria Plan is available to the employee, during Open Enrollment or Qualifying Life Event, the employee will be presented a new screen in the wizard workflow to choose which Cafeteria Plan they want. The employee will only be able to select one of these plans.

Family plan verification. We now have a validation warning if an employee tries to continue with Family Coverage selected, but has not selected a spouse and at least one "child" dependent to be enrolled. This will help cut down on mistakes during the enrollment process.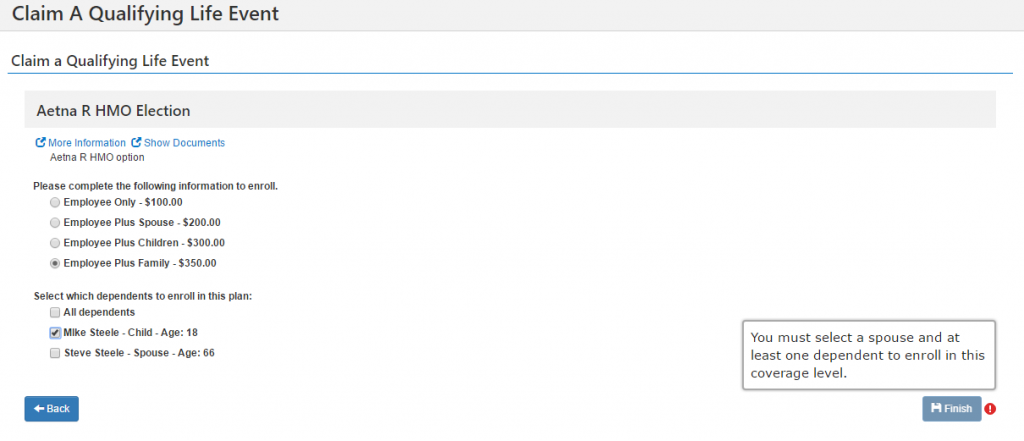 Group Term Life (GTL) tax calculation. Last, but certainly not least, Greenshades Benefits module can now calculate tax liability for employer paid life insurance, in excess of $50,000. Simply choose a Payroll Benefit code for the 'above $50,000 coverage' to map to, and Greenshades will now calculate the imputed income.

We are excited to offer our Greenshades Benefits customers with this additional functionality in 2017.
We value our customer feedback, so we would love to hear from you. If you have any additional features you would like to be considered, please let us know via Greenshades Online. Select the bullhorn icon (in the top-right hand corner of the screen), and select Offer Suggestion.
We would love to hear from you!
If you're not yet using Benefits Management, don't let another year go by! Find more information or request a demonstration on our website.
Or, sign up for our webinar series, 5 ways Greenshades can save you time in 2017. We hope to see you there!