By Chris Hadden, CPP
Technical Sales Manager
What were you doing 10 years ago? You just might have been uploading your W2s to Greenshades for the first time!
Greenshades currently has more than 2,000 Employee Services clients (over 5,000 unique FEINs), servicing millions of employees (over 2.4 million W2 forms in 2016). Our first W2 Online client came on board back in 2007 (Download My Form — the new and improved web version of Forms Lite), and our first E-Paystub user came on board in 2009 (paystubs online). Over the past 10 years, we have made thousands of changes and updates to these early portals, which are now a key part of the Greenshades Online Employee Services modules. So, needless to say, the available options have changed over the years.
In honor of "throwback Thursday," here's a reminder of what some of our early users saw after purchasing "E-Paystubs" from "Download My Form." This brings back memories from my early days at Greenshades!
Watch the video for a quick walk down memory lane
Today:
Okay, let's fast forward quite a few years to present day. If you have been using Greenshades since the early days of E-Paystubs, or if this is your first time seeing these old pages, you can see that a lot has changed over the years! (By the way, looking back at old web pages is like looking back at clothing from years past. We all think, "How in the world did we not feel silly wearing that?")
Back in the early days, there were only a handful of settings and features available. If you have not done so recently, now would be a great time to go through your Employee Services settings. As Justin Kirkland mentioned in a recent blog post, it is very important to keep your Administrator settings up to date. Not only is it important to keep your settings updated for security features, but there are plenty of fun and exciting features that you may be missing too!
Here are some of my favorites that we have added over the years:
Corporate Theme:
Not only can you customize the employee portal to display your company logo, but you can also configure the color theme for the employee site!
This provides a huge amount of company ownership for your organization and reinforces to the employee that they are accessing the correct website.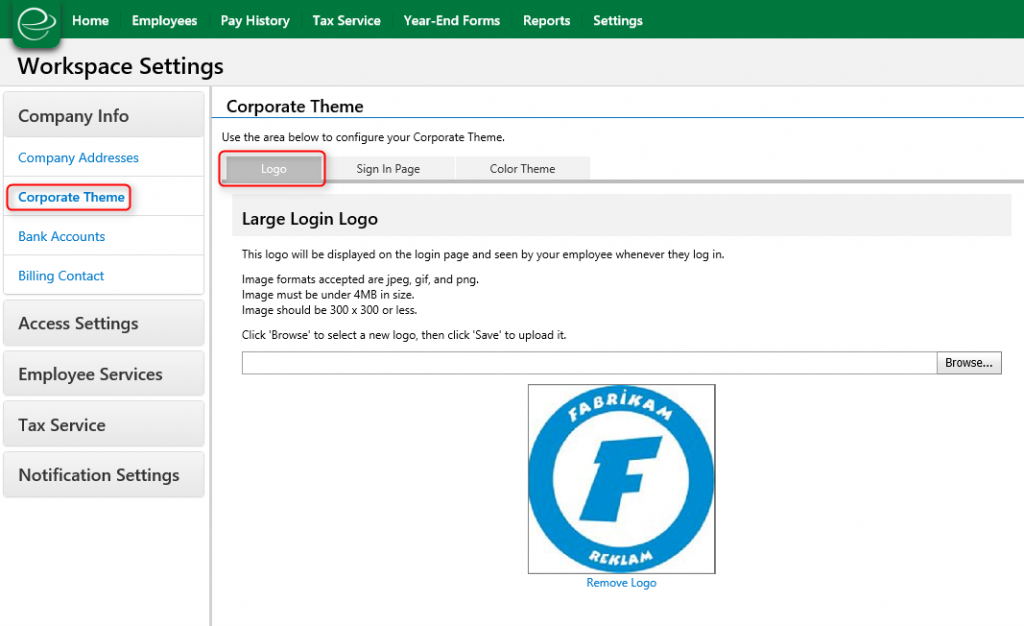 Manager Access:
Providing r/supervisor access is an excellent way to offload the responsibility of printing out an employee paystub reprint, in a situation where the employee is unable to print it out on their own. Additionally, this allows managers to quickly run reports on their subordinates including key information such as total wages for a given period.
Setup is quick and easy since Greenshades pulls from your existing organization chart.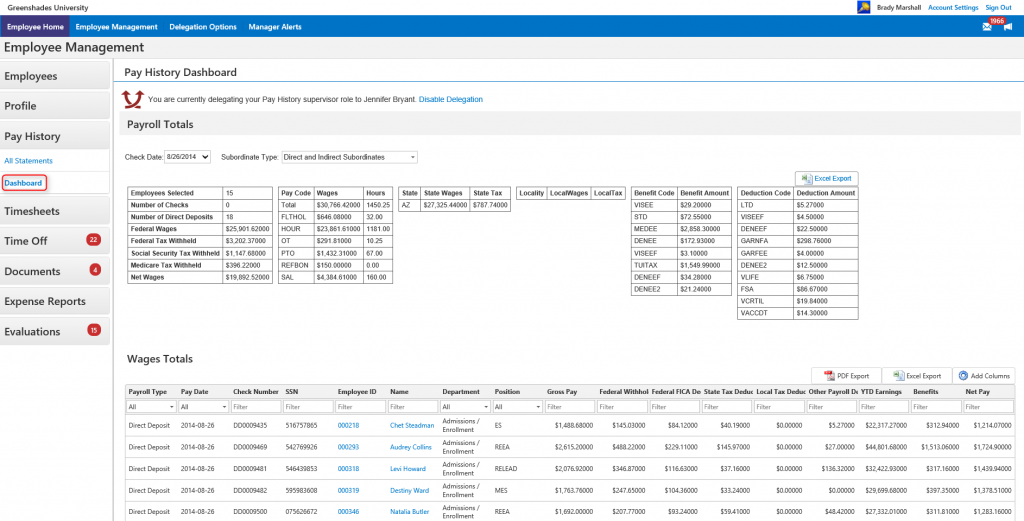 So many paystub templates and display settings!
That's right, there are so many templates available these days!
As mentioned in a recent blog post, it's important to keep your employee paystub updated, so now is a great time to take a look at what's available to you.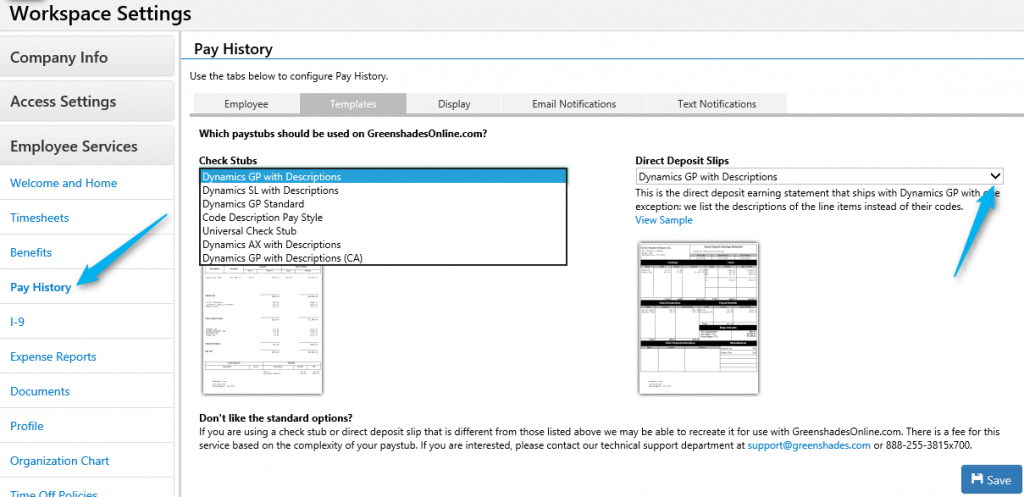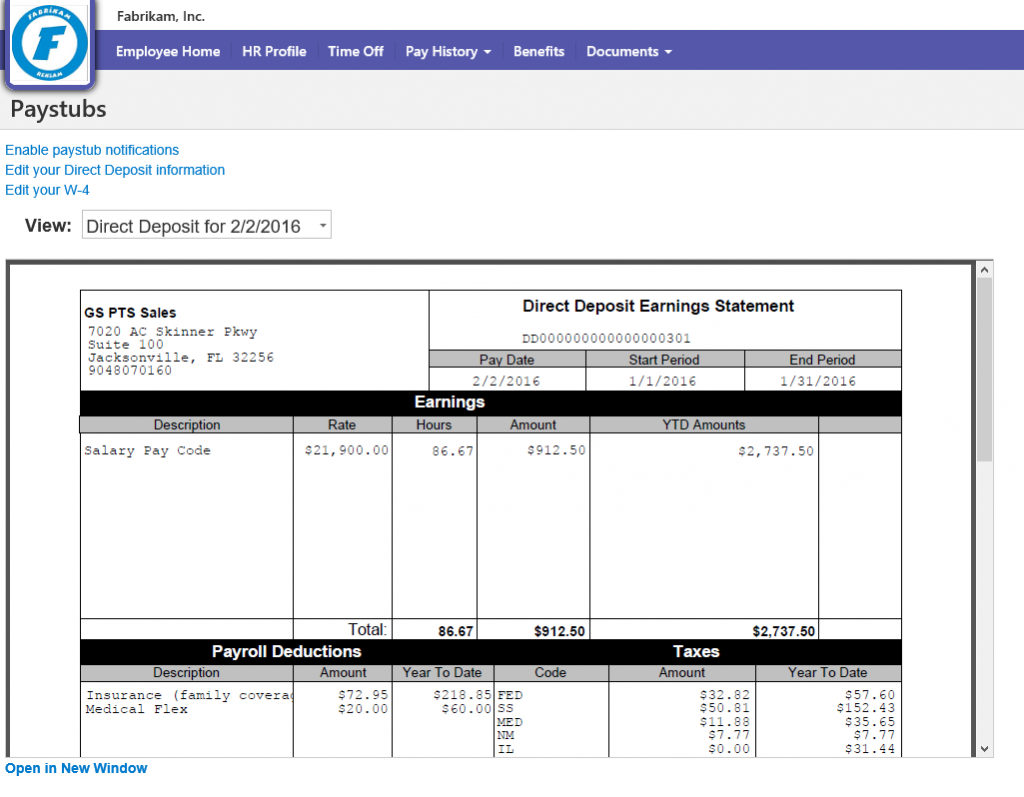 Company bulletins and messages:
Need a way to quickly notify your employees of a company announcement? Do you have an upcoming event you need to share information on? Need to restrict who the notice goes to?
You can do all of this, and more!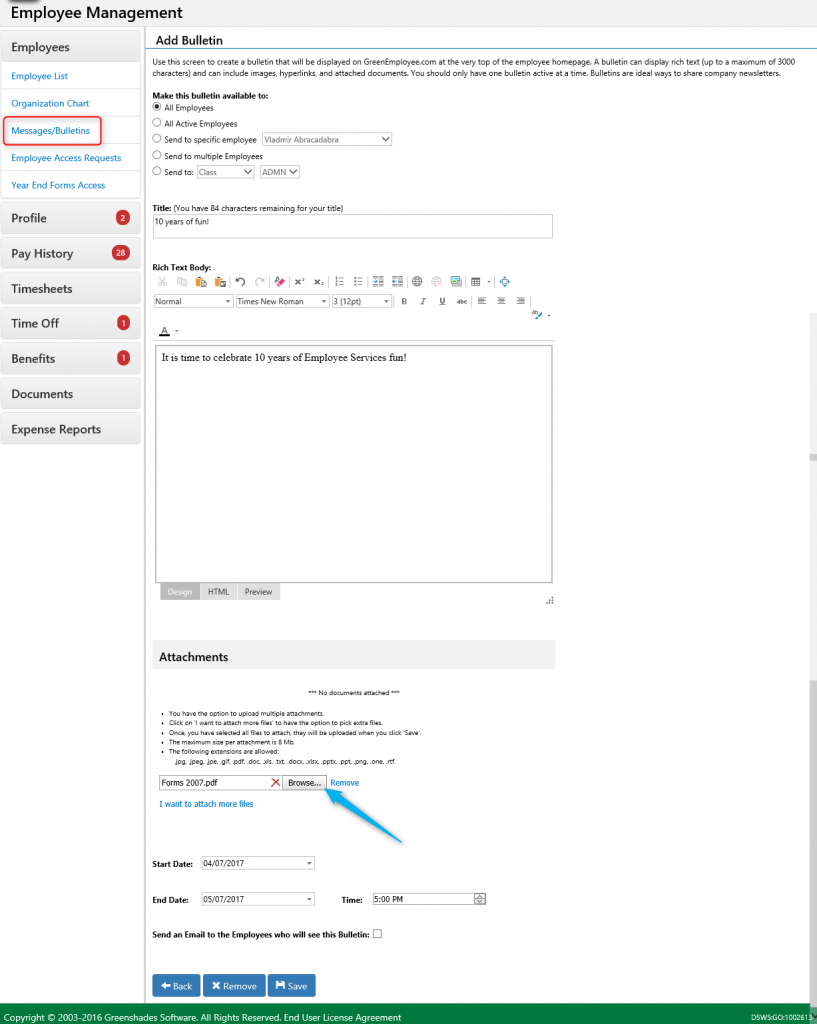 As you can see, there have been many, many new features added to the employee portal over the past 10 years. I could go on and on and on, but I think you get the point.
Have some time to kill? You can read hundreds of updates made since 2011.
Tired of reading? Reach out to Greenshades to request a demo. You can reach us at sales@greenshades.com or 888-255-3815 x 2.
Want to watch a demo on "Are you getting the most out of Greenshades Employee Services?" Click here.
Need some training? Contact Greenshades Support at support@greenshades.com or 888-255-3815 x 1.