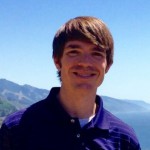 Chris Hadden, CPP
Technical Sales Manager
Not over yet!
As promised in Top product updates from 2017 – Part 2, here is Part 3  to wrap up our favorite product updates that were released in 2017.
Part 1: Greenshades Online Employee Services 
Part 2: Benefits Management and Year-End Forms 
Part 3: Payroll Tax Service and Dynamics Payroll Inspector
Well, what are our favorite Payroll Tax Service and Dynamics Payroll Inspector updates from 2017?
Tax Service now displays time deadlines in local time zone. The Greenshades Payroll Tax Service module now displays tax deadlines using the time zone selected in the Greenshades Online company workspace settings.
Why do we like this? We get it, time zones are tricky. Is Los Angeles three hours ahead of New York City? Or is it three hours behind? It is pretty easy to get mixed up! We are happy to now handle this calculation for you.
Why you should like this? Tax deadlines for any agency are not something you want to mess around with. It is critical that you submit your company's taxes in a timely manner, and these product updates now make that even easier. By seeing exactly when the filing needs to be submitted, you can skip the worry of submitting a filing an hour late versus an hour early.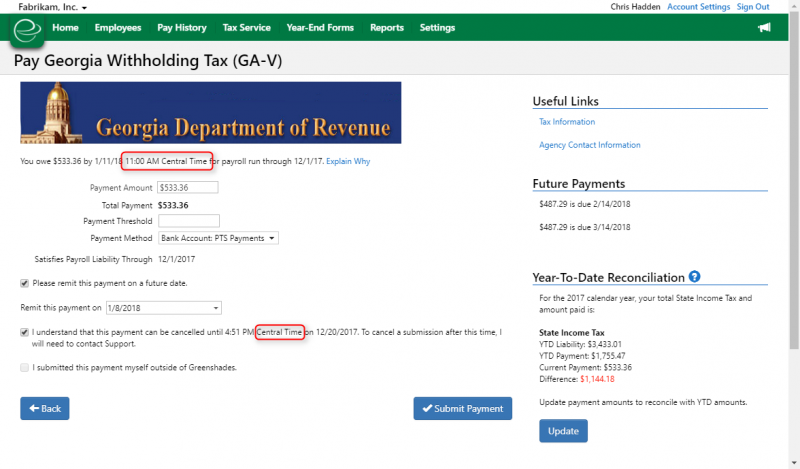 Increased visibility on Year-To-Date Reconciliation recommendations. To make it easier for companies to manage their own payroll and payroll taxes in-house, the Greenshades Payroll Tax Service module has a running YTD tax reconciliation running throughout the year. Every time you make a payment, Greenshades moves the 'paid through' date forward. If wages prior to that date are changed after that payment is made, this will be caught in the Year-To-Date Reconciliation and not in the suggested payment amount. These updates not only provide an even better explanation on what is changing, and why it is changing, but there is now a confirmation for the user to know the adjustment has been completed.
Why do we like this? Reporting timely and accurate tax information is a top priority for any organization. These new updates make this even easier. By providing users a detailed explanation, as well as a confirmation once the adjustment has been made, users can feel assured with the information they are reporting to tax agencies.
Why should you like this? Every penny matters. Any adjustment made to a tax liability amount should be monitored closely and tracked very thoroughly. The additional details and confirmation make it easier for these critical adjustments to be handled when the need arises.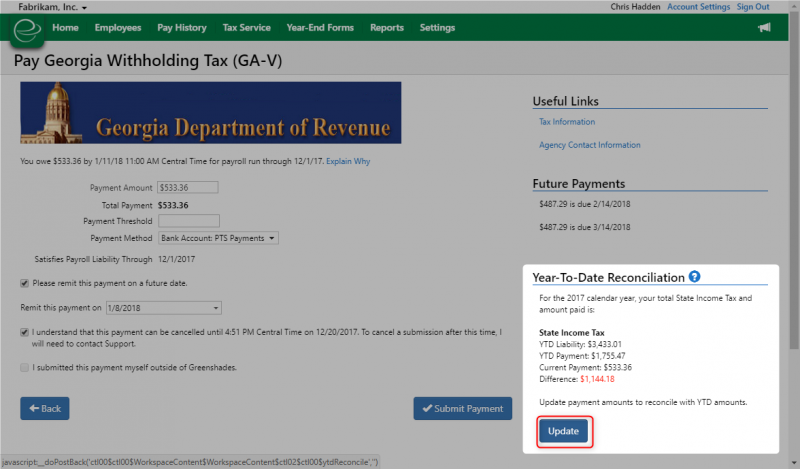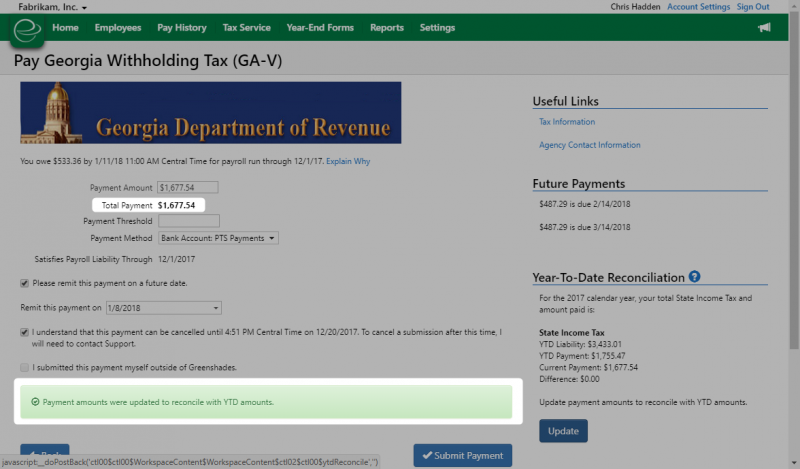 Additional State reciprocity agreements added to the Local Tax Manager, within the Dynamics Payroll Inspector application. As part of the Local Tax Manager from Greenshades, employee tax applicability is tracked based on an employee's home and work location. As part of this offering, the Greenshades Local Tax Manager applies state reciprocity agreements when in place. In 2017, the Local Tax Manager added state reciprocity agreements for Iowa/Illinois, Wisconsin/Illinois, Wisconsin/Indiana, Kentucky/Illinois, and Michigan/Indiana.
Why do we like this? We love making taxes easier. Adding additional state reciprocity agreements makes it easier for our clients to manage their employee base. Especially for employees and offices located near a state border.
Why should you like this? Well, it really depends on where your business and employees are located. If, for example, your company is located in Florida and all of your employees live in Florida, you may not notice the change. However, if your business is located in Moline, IL and if you have employees living in Davenport, IA, commuting to work every day, this would have a huge impact on you. If you're not sure if this is applicable to you or not, feel free to reach out to us and we can discuss this further.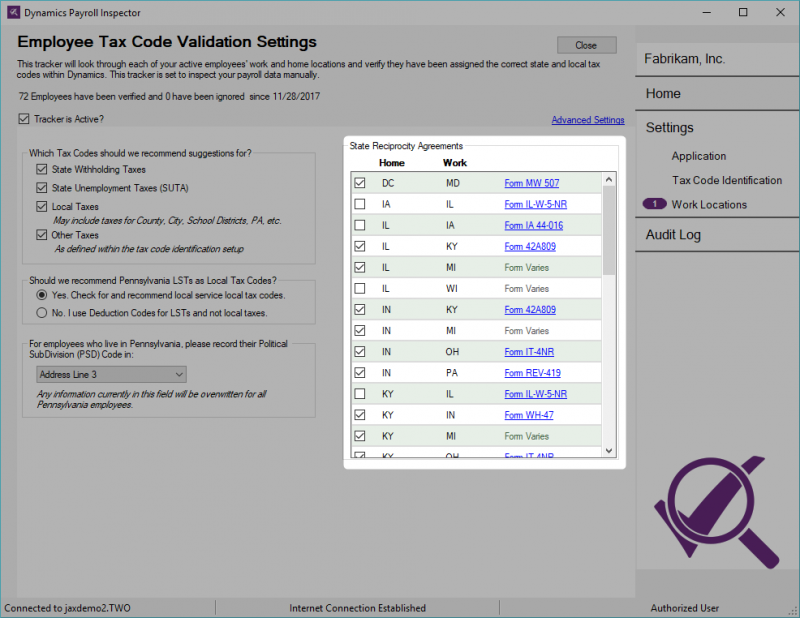 New reports added to Dynamics Payroll Inspector. Sure, there is a great ACA dashboard that alerts you to Affordable Care Act concerns and coverage gaps, however, we heard your feedback. In addition to the dashboard and configurable report builder, you asked for more built-in reports. So, we've added some!
Why do we like this? A lot of my job deals with data analytics, so I'm all about access to data within software applications. Additional reports provide our clients with the ability to slice data as needed for their business, while also having this as a second verification of data once the 1095-C forms are produced.
Why should you like this? When it comes to compliance, having a checklist available throughout the year is a great way to help ensure accuracy and timeliness of information. Finding a mistake today, and fixing it today, is almost always easier and quicker than fixing tomorrow. Having multiple reporting and data analysis options allows for multiple means of viewing and processing ACA details while increasing the likelihood of catching an error or mistake today.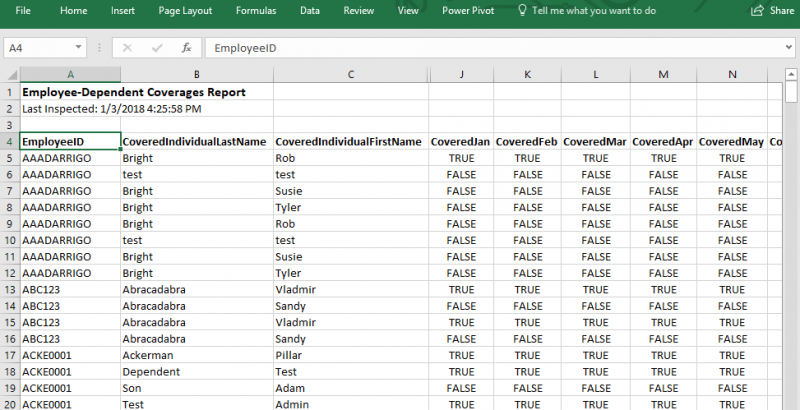 Employee ID added to the Dynamics Payroll Inspector Employee Address Validation report. The Employee Address Validation within the Dynamics Payroll Inspector reviews employee home addresses from Microsoft Dynamics GP, and runs them through the United States Postal Service (USPS) address verification system. This does CASS certification and Delivery Point Validation. When recommended changes are found, the Dynamics Payroll Inspector alerts users to the recommended change, and then makes the change in GP on behalf of the user, once approved. These results now include Employee ID, allowing for an easy look up of the employee within Dynamics GP.
Why do we like this? Dynamics GP is not known for its robust search capabilities. When it comes to look ups in Dynamics GP records, IDs (Employee, Vendor, Customer, etc) are king! In the case of Dynamics GP Payroll and HR, Employee ID is the quickest way to search for an employee record. Including Employee ID on the Address Validation results allows user to more easily pull up this employee record within Dynamics GP, if needed.
Why should you like this? The Employee Address Validation is a great way to have some assistance in ensuring the employee details within Dynamics GP are accurate. This latest update now makes this even easier.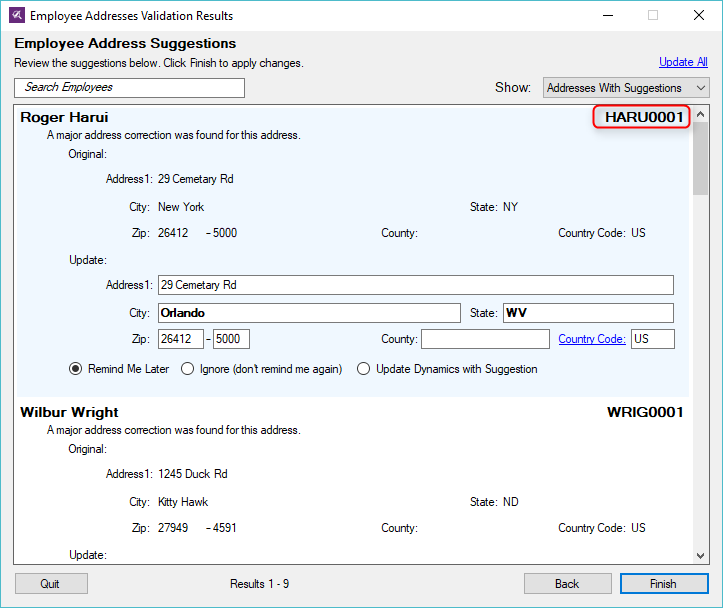 Added additional Paid Sick Leave support. Like so many other states have done now, Arizona now has a paid sick leave law in place. On November 8, 2016, Proposition 206: The Fair Wages and Healthy Families Act passed, receiving nearly 60 percent of votes. There are two parts to Prop 206 — the first is a minimum wage increase, and the second is mandatory employer-provided sick leave. The Paid Sick Leave module within the Dynamics Payroll Inspector helps businesses ensure they are offering the appropriate amount of paid sick leave to employees based on employee's hours worked.
Why do we like this? Some big things happened on election day, November 8, 2016. Arizona's Proposition 206 was hardly the dinner table and water cooler discussion for most people around the country on the days following however. That's not the case around the Greenshades office though! We are happy to make employee workforce management and compliance a little easier for our users.
Why should you like this? Some businesses have robust time and attendance systems that manage all types of paid leave for thousands of employees, using customized accrual schedules. Some of these specialized solutions have also been updated to support paid sick leave laws. But what if you do not have that? What if you do not need a big price tag solution, and instead need something to help manage compliance? That's where the Paid Sick Leave modules come in to help. Now it's helping in Arizona, too.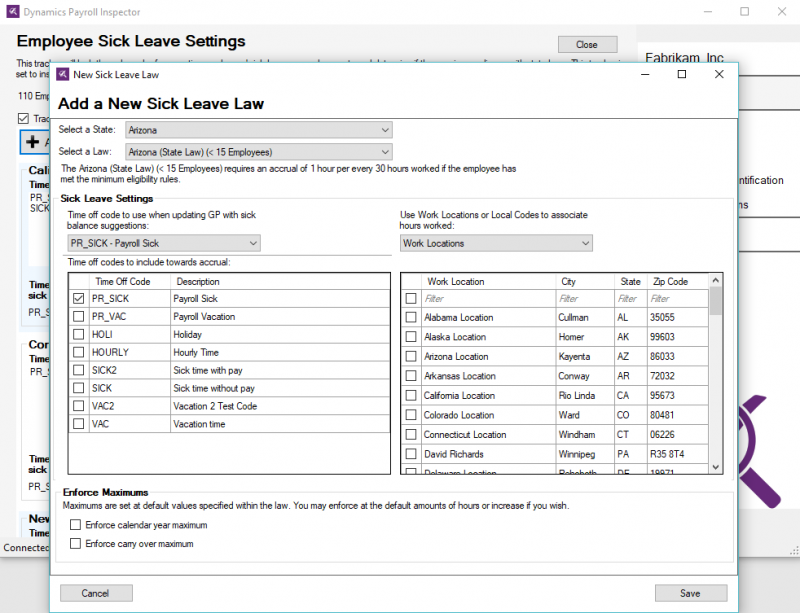 For future updates on changes to the Greenshades Payroll Tax Service and Dynamics Payroll Inspector products, please be sure to follow the Greenshades Blog and reference the official Payroll Tax Service changelist and Dynamics Payroll Inspector changelist.
If you have any new Greenshades updates you would like to see made in 2018, please let us know.
We value our customer feedback, so we would love to hear from you. Please share your feedback with us via Greenshades Online. Select the bullhorn icon (in the top-right hand corner of the screen), and select Offer Suggestion.
If you're not yet using Greenshades Online Employee Services, don't let another year go by! Find more information or request a demonstration on our website.
We appreciate all of our clients and partners on helping 2017 be yet another successful year for the Greenshades Software family. And now, on to 2018!