Anticipated Release – 12/22/2021
---
Welcome to a new way to manage your Greenshades invoices! Now during your Year End Forms process, administrators can enter payment information for the forms and returns they will be generating at the time of invoice creation. No forgetting to pay your invoices, now you can plan and budget this in with your annual forms distribution expenses.
Navigation:
Greenshadesonline.com > Year End Forms > Upload New Forms > Create Company > Welcome Wizard (also Step 1 in the Year End Forms checklist if you need to get back to the same page).
New Feature:
While walking through the Year End Forms Welcome Wizard and set up, you will notice a new page this year. Greenshades now gives you the ability to set up auto-billing of your Year End Forms invoices for generating your returns, employee and vendor forms, as well as mail service distribution: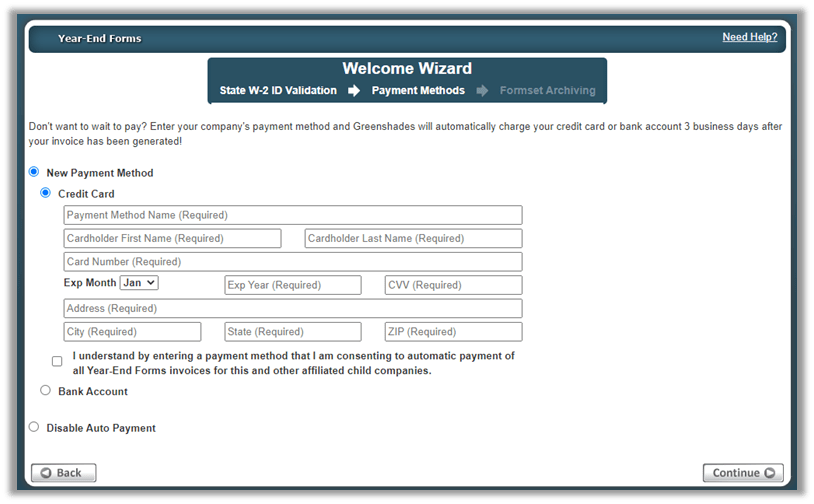 Credit Card/Bank Account – You will notice a new page this year as you walk through your year end set up. This page allows you to enter you company's payment information for the forms and efiles you will be generating through Greenshades this year end. Be sure to note, any payment information entered will be to cover the invoices of all companies associated with your account. Disable Auto payment – Not ready to enter this info yet but want to keep moving along while someone in accounting figures out what account to use? Select this option to keep walking through the wizard. You can get back to this page again by entering step 1 on the Year End Forms Check list.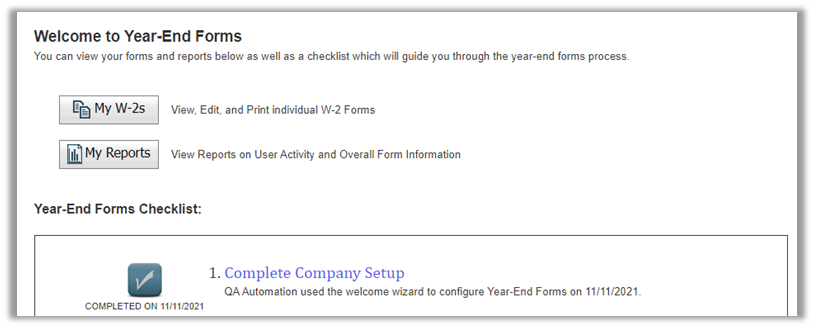 Is it required? – Administrators now have the ability to enter a company credit card or bank account this year. We recognize this is a new feature that may require some internal process updates on your end, so for this year end it is optional. This will be required in the future. Who should enter these details? – Any administrator with access to the forms on GreenshadesOnline.com is able to enter this information. If your payroll administrators do not have access to this information however that may need to be someone else for your company.