---
Anticipated Release – 12/1/2020
---
Greenshades Online Employee Services
Navigation:
Greenshadesonline.com > Settings > Employee Services > Expense Reports

New Feature
Administrators are now able to set up travel time entries as reimbursable through expense reports. A few months ago, the concept of travel time entries was introduced to GreenshadesOnline and GreenEmployee. Travel entries are entries on an employee's timesheet that includes any mileage traveled during that time entry. This is done during the Pay Group set up for Timesheets.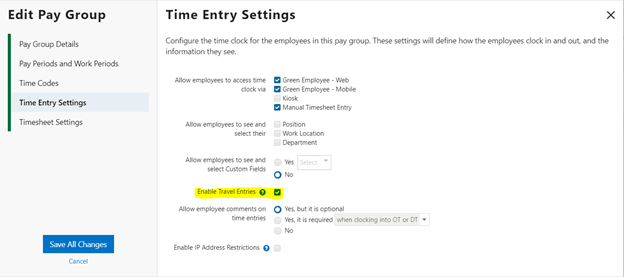 Administrators can view all Pay Group travel entry set up on the new "Travel Entry Reimbursement" tab under the Expense Report settings. Administrators can edit each Pay Group to enable employees to see and enter travel entries in timesheets, enable travel entries to be reimbursed through expense reports, and set up an expense category for those travel entries. The expense category that is chosen will account for what business expense pay code the reimbursement will be paid out on. If the administrator enables travel entries for a pay group, then the employees in that pay group will be able to enter travel mileage with their time entry. If the administrator also enables travel entries to be reimbursable for that pay group, then employees in that pay group will be able to add those travel entries onto an expense report for reimbursement.

Past Updates
---