By Brittany Llorente
Media Marketing Associate
Last year at GPUG Summit, the whole Greenshades team was dressed up like lifeguards. In case you need a reminder of our whistles, visors, board shorts and flip-flops, I give you exhibit A.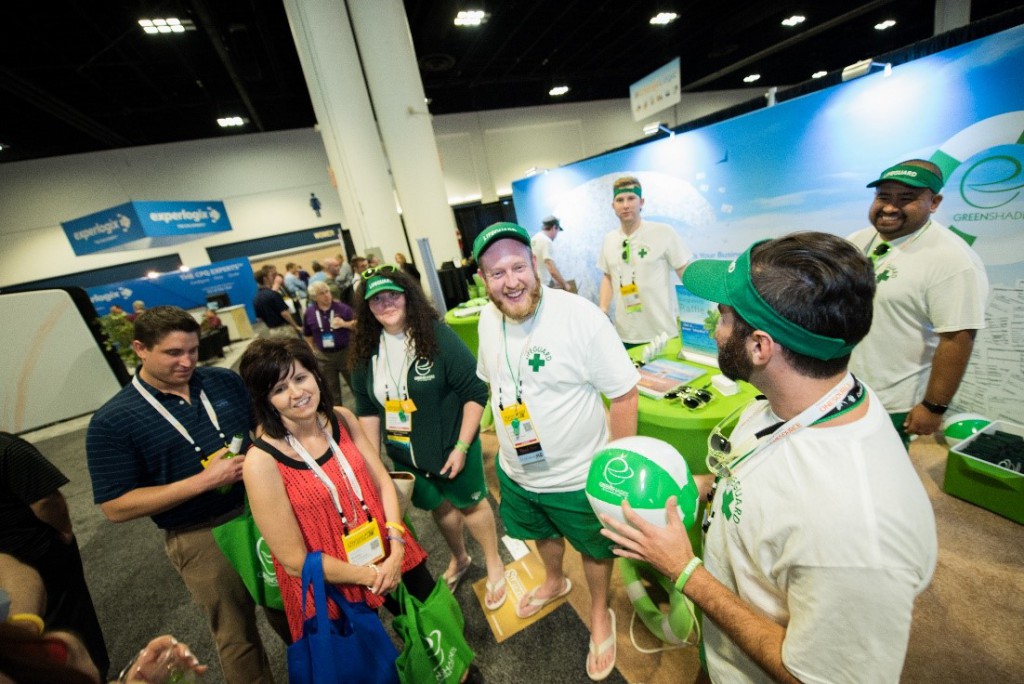 We were lifeguards, wanting to save you from drowning in paper. Though it has been a year, this is still one of the things that Greenshades does best.
One of these ways is through our employee portal.
The Greenshades Online portal is a one-stop shop for employees. It's honestly my favorite solution that we have, and I say this whole heartedly because I legitimately use it every day. It is the first thing I see when I log into my computer for work and the last thing I see when I log out. It is an incredible resource in so many aspects.
Employee handbook
At past jobs, I think I had the employee handbook for a whopping 2 weeks. I received it, then misplaced it very shortly after. That, or I would find it locked away in a drawer that I forgot about and never opened. I'm willing to bet dollars to doughnuts that this is the fate of most employee handbooks. They're printed for every new hire, costing a good deal of money for employers depending on the size of the company. Whenever I wanted to consult the handbook, I would ask a coworker for their copy, and then another and another until there was one soul who was more responsible than us.
Thankfully, those days are long behind me and I have my trusty employee handbook at my disposal within the click of a few buttons. I see what days we have off as holidays, how many hours of Paid Time Off I receive yearly based on my tenure, and visitor policies. Also, I know the handbook that I'm referencing is the most current handbook and it was updated without any paper being used and no ink cartridges emptied.
Benefits documents
Very similar to the employee handbook are the benefits documents that we receive yearly. This is information that I hang on to, but I always feel overwhelmed with the sheer amount of information that is given. I want to compare, to look at what each plan offers and how much will be deducted from each paycheck.
With our benefit solutions, I am able to enroll and see all of my options and concise breakdown of what will be deducted from each paycheck, all in one place. I feel more confident in my selection process when evaluating my benefits. In addition, if I have any questions in the future about coverage, I can log onto my employee portal and see those documents at a moment's notice. Again, no paper was used and I have my information updated every open enrollment season after a few clicks.
Tax Forms
During tax season, businesses across the country fire up their printers and get ready to print year-end forms. Reams upon reams of paper are brought in, ink supplies are restocked, and envelopes are ready to be stuffed.
It's a tedious process.
Chris Hadden, our Technical Sales Manager, explained in a recent webinar that during his first year at Greenshades, he was asked to help out in the mail service department at Greenshades during year-end. Chris has been with the company for many years now and that first year was the only year, and he said "thankfully" the last year, he experienced the madness that is year-end in a mailroom (we like him over in the sales department anyway). It is a controlled, organized, fast moving, everything in its place – process.
For many businesses, this can be overwhelming and this is a monumental way that Greenshades saves businesses from drowning in paper. We take all the hustle and bustle of year-end, bring it to our printers and processes, and make sure that all you have to do is upload forms and hit send.
For those who don't want to print, we have an option for that, too. Through the employee portal, employees can receive copies of their W-2 and 1095-C forms and acknowledge receiving via an online signature.
This is my favorite feature because my year-end forms are stored on my employee portal and I can print at my discretion or save a PDF of the form on my computer. I will never misplace or need to request a replacement.
If your business is drowning in paper, these are just three of the options available to help and we have many more. Contact us today to hear more about the catered solutions we have for your business needs.