By Brittany Llorente
Media Marketing Associate
If you have ever had to enroll your employees for the multitude of benefits and health care options that your business has, you have probably blocked off a good month on the calendar to accomplish this goal. What takes you the most time? Tracking down all of your employees, and ensuring they've submitted all paperwork by the deadline? Or maybe you struggle with ensuring all of your employees have either enrolled or waived all eligible benefit offerings? Or perhaps it's ensuring your employees understand what benefits they're getting, and what it actually covers?
This is enough to cause someone to go mad.
If any of the above sounds familiar to you, rest assured there is an easier way – and Greenshades has it.
The first step to simplifying the process with Greenshades involves our Employee Services module. The online portal is a mecca for information and enrollment details for employees to review. Employers can leverage the power of an employee facing portal, to help address time-consuming administrative tasks associated with open enrollment. Uploading the manuals describing each health care tier, simple employee facing summaries of their eligible plans, such as dental, vision, life insurance, disability, and more, is a huge time saver. Employees can peruse this on their own time without employers having to print, package, and deliver benefits forms to every employee and ensure that they have received them (you can even have an area where the employee must acknowledge the offer of coverage, which is a huge help for maintaining Affordable Care Act compliance).
Once open enrollment occurs, employers then notify their employees to enroll in benefits. These automated messages can be sent to the employee's notification email address, or a text message sent directly to their mobile device. The employees then log into their employee portal and click the 'Benefits' tab at the top of the page. The employee is then given only the available options to enroll in. No more wasting time on explaining to a room full of people all of the options, and then telling them that only some are available to certain individuals.
Once here, the employees are given the option to enroll, or waive the benefits they are eligible for. You can add any type of benefits here, from vision and dental to 401ks, gym memberships, and even pet insurance, if your business offers it.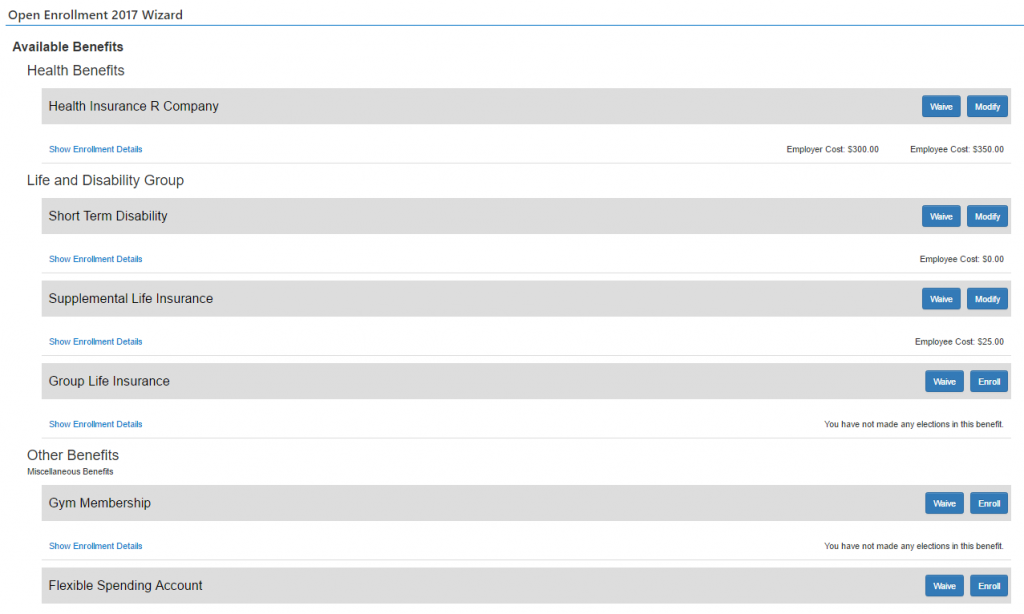 On the back end, once the elections are approved, the enrollment data is synchronized to Dynamics GP using  the Greenshades Sync Connector.
So, to break it down:
Employee receives automated notification and reviews their eligible benefits
Employee chooses to enroll or waive coverage and receives enrollment confirmation statement
Employer approves enrollment elections after receiving automated notification
Approved elections are automatically synchronized to Dynamics GP
Employer is left with a big savings of:
Now you can get back to doing things that are more important.
See, there is an easier way.
Want to find out how Greenshades can save you more time? Click here to read Part 2 – Time Entry.