By Molly Van Kampen, CPP
Chief Evangelist
Recently I have traveled an awful lot for Greenshades, attending tradeshows and meeting with clients and partners.  As I have smiled a thousand times and enjoyed hundreds of amazing interactions, the question "What's new?" has started a lot of conversations and discussions.
In most cases, "What's new?" is a form of social courtesy, a rhetorical question that we use to start a conversation but without expecting a detailed answer.  Although I must admit I often responded with an appropriate, generic and polite response, as we get closer and closer to the end of the year, my internal voice is screaming.  There is SO MUCH NEW and upcoming.
As a long term payroll fanatic, I am especially interested in the changes that are sure to come as a response to the recently passed Taxpayer First Act (H.R.3151).  With the ultimatum for the IRS to realign the agency with a focus on efficiency, the Taxpayer First Act brings some significant changes to the electronic filing requirements for employers.
For years prior to 2021, employers with over 250 W-2s will be required to electronically file.  In 2021, the 250 W-2 threshold significantly reduces and creates a requirement for employers to electronically file if they have 100 W-2 returns or more.  The greatest change comes after 2021 when the electronic filing requirement drops all the way down to 10 W-2s.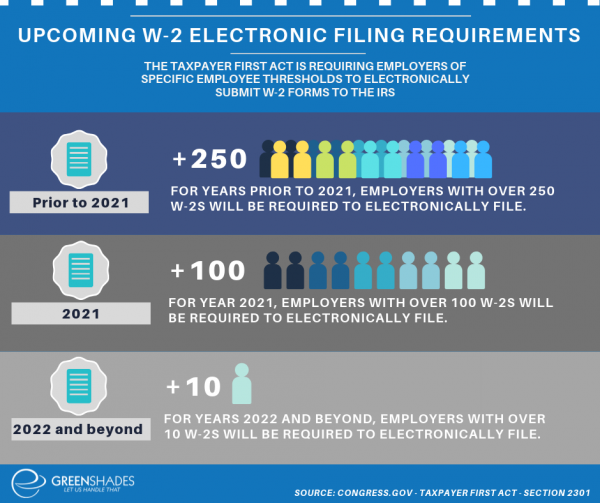 W-2s are not the only returns impacted by the new Taxpayer First Act and businesses that issue 1099 returns are also subject to the upcoming electronic filing requirement changes.  With the new requirements also came direction for the IRS to modernize the method of filing 1099 returns which will be especially helpful as the IRS has announced the reintroduction of the 1099 NEC  return for the reporting of Non-employee Compensation, starting in 2020.
2020 is going to be an exciting year for businesses and the reporting of wages and non-employee payments.  Payroll and finance professionals should start planning now as the new filing requirements also come with new, increased penalties for improper filing of returns.  The time to understand how these new requirements will impact individual businesses is now before the end of 2019 gets away from us.
As for me, next time you see me, be prepared that the question "What's new?" will likely come with a lot of excited words around new compliance requirements.  As always, I love this compliance stuff and sharing good tools for preparedness remains a passion for me.