By Chris Hadden, CPP
Greenshades Software Technical Sales Manager
What's your plan for issuing 1095-C forms this January?
Any idea how many you'll have?
I've talked with a number of employers recently who are still very uncertain on how they will distribute their 1095-C forms this January. Not only is the form completion a very manual and tedious process, which is a key reason for uncertainty, but many of them simply have no idea how many 1095-C forms they'll have in January.
So who needs to be issued a 1095-C? All of your employees? Perhaps, but not necessarily.
So just the full-time employees? Not necessarily.
IRS Section 6056 states that all ALE members must file Form 1095-C, Employer-Provided Health Insurance Offer and Coverage, and Form 1094-C, Transmittal of Employer-Provided Health Insurance Offer and Coverage Information Returns, with the IRS annually, no later than February 28 – March 31 if filed electronically – of the year immediately following the calendar year to which the return relates. ALE members are also required to provide a statement to each full-time employee that includes the same information provided to the IRS via 1095-C, by January 31 of the calendar year following the calendar year for which the information relates.
Not sure what to report? See Affordable Care Act: What is reported?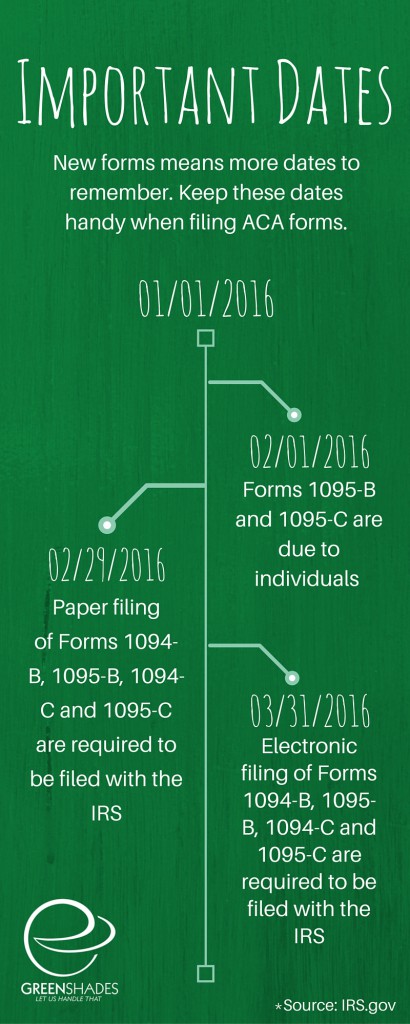 What about the form 1095-B? Form 1095-B applies primarily to insurance carriers, however, some small and self-insured employers would be responsible for issuing a form 1095-B. As with the 1095-C and 1094-C, the filing deadlines to recipients are January 31st, and IRS filing deadlines are February 28th unless filing electronically.
Employers who are not considered ALEs are generally not obligated to issue ACA information forms at year end unless the employer has employees who enroll in self-insured coverage through the employer. In this event, the employer must issue a 1095-B form to all covered individuals.
So, here are some questions to ask yourself:
• Do I offer self-insured coverage to my employees?
• Do I offer employees coverage who are not classified as full-time?
• How many full-time employees do I have in the reporting year?
• How do I plan to distribute all of these additional forms in January?
Do you offer self-insured coverage? If so, keep in mind that Part 3 of your 1095-C form must be completed. This includes all covered individuals – including dependents AND the employee. Additionally, if you offer coverage to non-employees (board members, etc.) you are required to issue them a 1095-B form if they enroll in coverage.
Do you offer coverage to all employees or just full-time employees? Any employee regardless of their full-time status, who is offered and accepts coverage must receive a 1095-C form.
How many full-time employees do you have in the reporting year? Any employee who was at least full-time for at least one month in the calendar year needs to receive a 1095-C form. This includes employees who may be considered part-time or terminated as of December 31st.
How do you plan to distribute these forms? Many employers will come close to doubling the number of tax forms they'll be filing this January. With employers now responsible for issuing W2s and 1095s, do you have the resources to handle this additional volume?
In case you're thinking about not participating, keep this in mind – not issuing a 1095-C form is the equivalent to not issuing a W2 to your employees in January. Would you ever consider not issuing W2s in January? I'm guessing not, for a very good reason – penalties. Just like with W2s, not issuing a 1095-C form in January will bring you a penalty of $250 per return with a max total of $3 million, unless the non-filing was intentional. If intentional, the penalties are $500 per return with no maximum!