By Justin Kirkland
Sales Engineer
Now that we have explained how to implement and manage employee benefits into your systems, in our last blog (5 ways Greenshades simplifies Benefits management and setup), the next step is to track benefits for your employees. Once your employees start enrolling in benefits from the Green Employee portal, you will then be able to view real-time statistics on the benefits that your employees elected to receive. This is why the Greenshades Benefits module is an all-in-one resource for administrators. Here are five reasons why:
Eligibility and Enrollment
This section will give you real-time data on how many employees are eligible for benefits, including how many employees have or waived.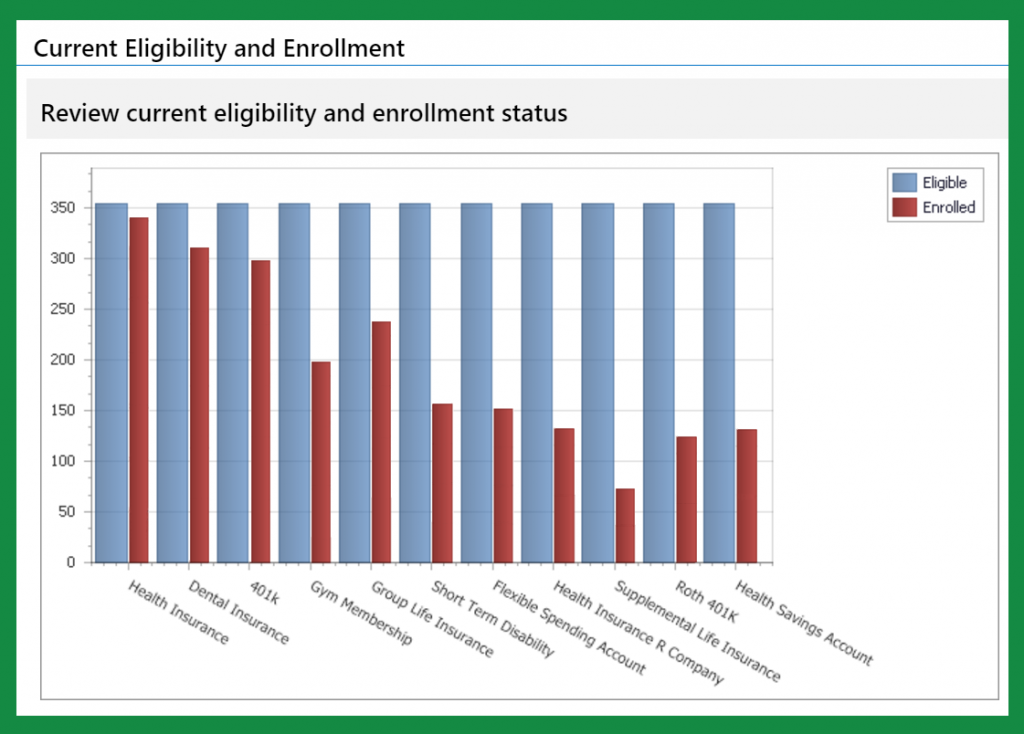 As a Greenshades Online administrator, you will also have options to generate reports for all benefit types, or just specific plans, providing you full access to benefits enrollment statistics.
Eligibility Changes
One of our main features is to show administrators all employee eligibility changes. This section will not only show you suggested changes, including the reason for the change, but it will display all historical changes for your employee's benefits packages. This allows you to see the current benefits package as well as the proposed package that Greenshades Online is suggesting.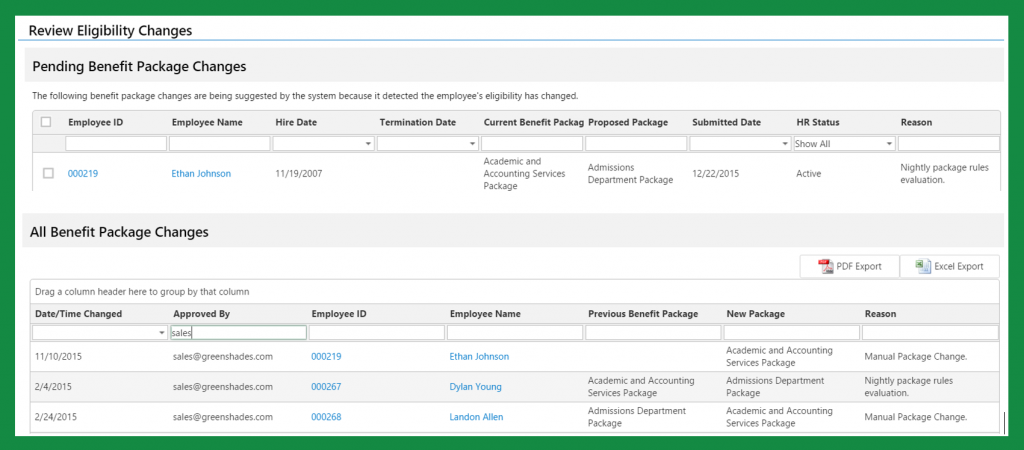 Open Enrollment
This section of Greenshades Online will display information on your current open enrollment as well as historical enrollment events. The information is shown for historical enrollment events VS. Current enrollment events is a little different.
The current event will show data for the following items:
Enrollment Period
Plan Period Available Benefits
Eligible Benefit Packages
Days remaining for the Open Enrollment
Option to remind employees to enroll
Review Elections
The historical open enrollment event shows these options:
Enrollment Period
Plan Period Available Benefits
Eligible Benefit Packages
Review Elections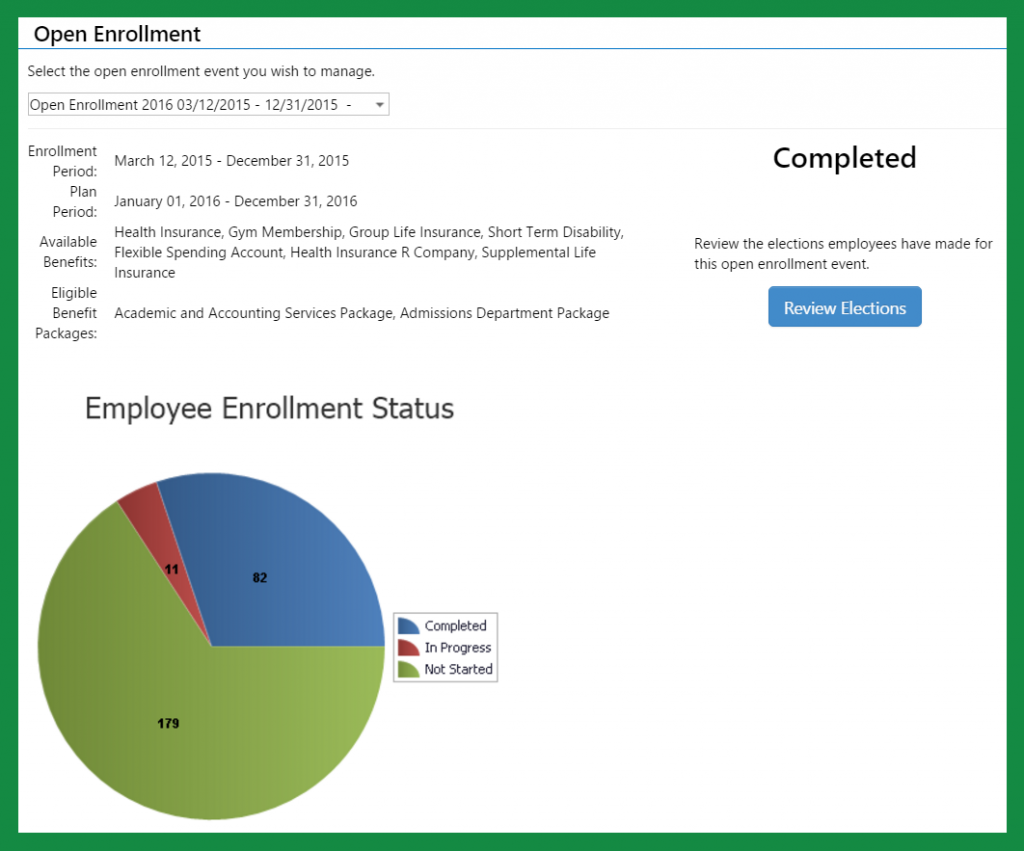 Qualifying Life Events
Greenshades Online administrators also have the ability to view any QLE's submitted by employees from GreenEmployee.com. This allows you to review any changes that an employee may submit for a life changing event and make a decision based on the information submitted.

ACA Dashboard
The Greenshades Online Affordable Care Act Compliance Dashboard has multiple types of reports for reviewing your ACA compliance, including:
Employees coverage meeting Affordable Care Act qualifying offer levels by month
Percentage of full-time employees that are being offered minimum essential coverage by month
Employees that are not being offed adequate coverage by month
There are also reports for Full-Time Employee statistics, including:
Employees considered full-time under the Affordable Care Act
Employee's full-time status that recently changed
Non-full-time employees that are currently averaging more than 30 hours/week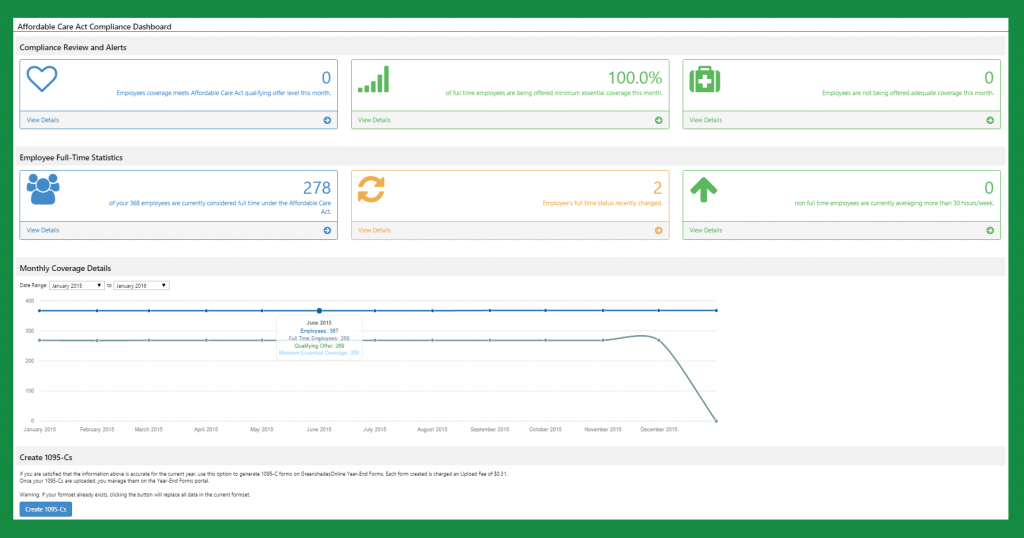 The newest feature recently added to the ACA Dashboard is the functionality to create your employee's 1095-C forms with your company's benefits data, directly from Greenshades Online. This makes form distribution much easier for you, as the administrator. Employees may access these forms from the same Green Employee portal they used to elect their benefit options.
To request a demonstration of the benefits module, click here.